EvoFill DUO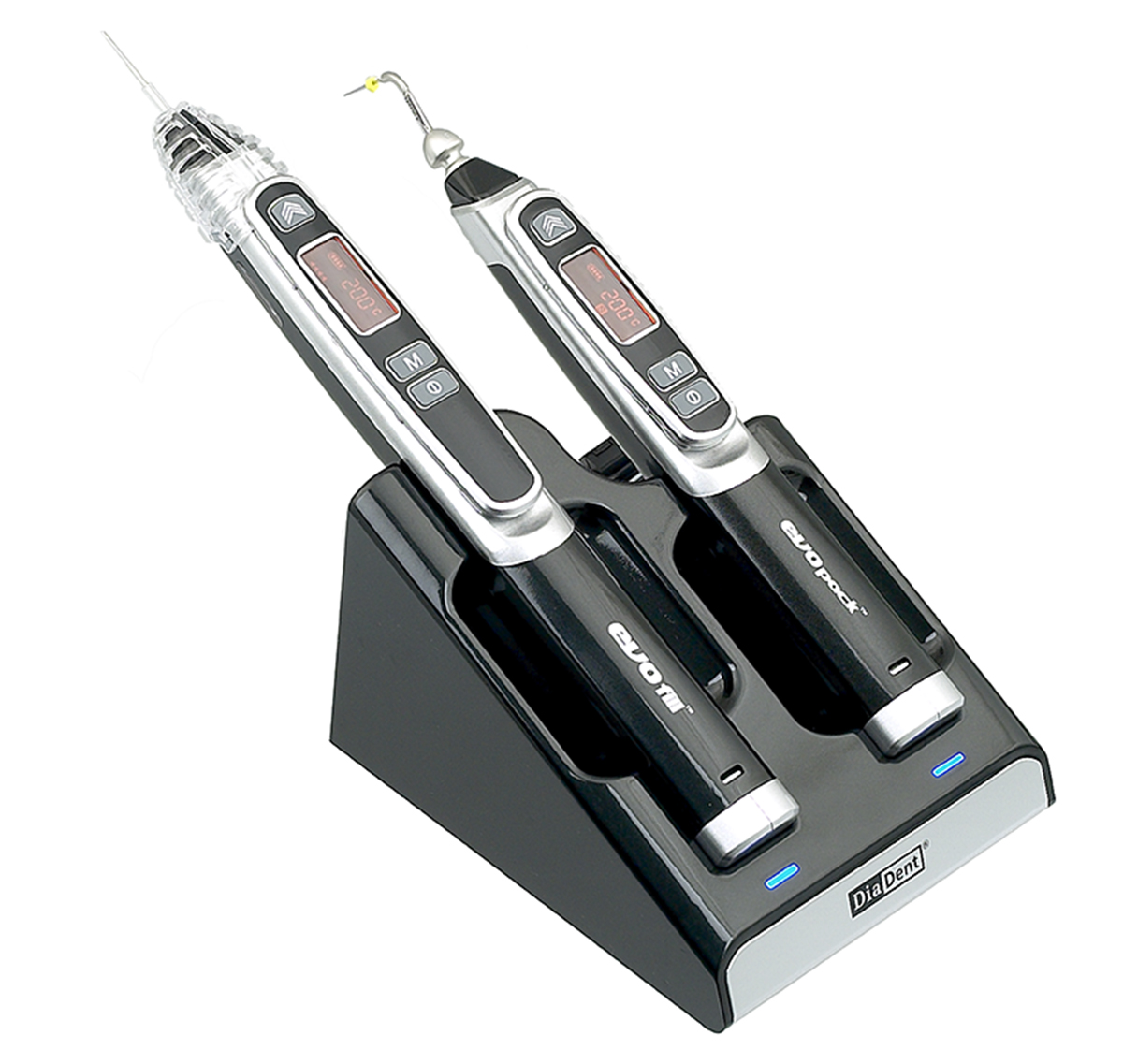 Brochures Brochure.pdf
Cordless Warm Vertical Compaction & Backfill Obturation System
EvoFill Duo is the new advanced cordless obturation system from DiaDent Europe that consists of EvoFill backfill obturation device and EvoPack warm vertical compaction device. With the innovative electric motor, EvoFill features precisely controlled motorized gutta percha extrusion, fast heating bendable thin tip, and digital control panel. Save valuable time with hygienic single-use gutta percha cartridge that provides reliable result every time. EvoPack effectively and tightly compacts and seals all canals including lateral canals. It features LED light-guided condenser, instant heating, and digital temperature control. Both units can be fully charged within 90 minutes!
EvoPack Vertical Compaction Device FEATURES
Innovative LED light-guided condenser
Save time with instant heating
Tightly seals all canals including lateral canals
Adjustable temperature setting and time
Simple one-button operation
EvoFill Backfill Obturation System FEATURES
Controlled, precise motorized gutta percha extrusion
Fast heating bendable thin tip
3 different temperature settings to control extrusion speed (160℃, 180℃, 200℃)
Hygienic single use fast loading gutta percha cartridge
No mess, easy clean up
DOWNPACK OBTURATION
Shape the root canal with endo files and determine the working length. Select a master cone that closely matches the apical size.
Insert EvoPack condenser into the root canal to the point 4~7mm short of the working length. Move and set the endo stop accordingly.
Insert the selected master Gutta Percha cone that is coated with sealer.
Place pen tip in the orifice of the canal and activate EvoPack condesner by pressing the Operation Button. Using the activated condenser, cut the middle of Gutta Percha cone and condense the soften material to the point 6~9mm from the apex for about 1.5~2 seconds only.
Release the Operation Button to allow pen tip to cool down, while at the same time continue pushing and holding the cooled pen tip to the apex for 8 seconds. This ensures all lateral and accessory canals are filled. Activate the pen tip again by pressing and holding the Operation Button for about 1~1.5 seconds, compact the Gutta Percha cone to the point 4~7mm of working length.
Condense the remaining material using the Dia-Kondensor.

BACKFILL OBTURATION
Insert a gutta percha cartrdige into EvoFill.
When the power is turned on, EvoFill automatically starts to preheat to the selected temperature. Using EvoFill's activated tip, make contact with the upper part of filled master cone in the canal, transfer heat for 3 to 5 seconds to soften the material.
Press the operation button to extrude the melted gutta perchat the root canal.
Continue flowing while withdrawing the tip from the canal.
Use Dia-Kondensor to compact obturation material.

ITEM #4005-1001 EvoFill Duo Complete Kit
Contains: 1 EvoFill Handpiece, 1 Safety Cap, 1 EvoPack Handpiece, 1 Heating Condenser, 1 Dual Charger, 1 Power Adapter & Cord, 1 Scrubbing Brush, 1 Multi-Tool, User Manual.
Order Information
ITEM #4005-1101 EvoFill Handpiece
ITEM #4005-1201 EvoPack Handpiece
ITEM #4005-2020 Dual Charger (for EvoFill & EvoPack)
Accessories
ITEM #4005-2010 Gutta Percha Cartridge (20/box)
ITEM #4005-2070 Heating Condenser XF
ITEM #4005-2071 Heating Condenser F
ITEM #4005-2072 Heating Condenser FM
ITEM #4005-2073 Heating Condenser M
ITEM #4005-2074 Heating Condenser ML
ITEM #4005-2075 Heating Condensers Combo F/FM (2/box)
ITEM #4005-2076 Heating Condensers Assorted XF/ML (5/box)
Please note that EvoPack's Heating Condenser and Dia-Pen's Pen Tips are not interchangeable.
Video's